Setting Up AdWords Conversions in Enquire MAP
Enquire MAP Landing Pages work extremely well with Google Ads and other PPC traffic campaigns. This guide will show the User how to set up Conversions in Google Ads and where to paste the conversion code in Enquire MAP LPs.
It is recommended to connect the Company Google Ads account to Enquire MAP to ensure that the call tracking and reporting are connected.
Integrating Enquire MAP with Google Services
Google Services Integration
For those packages (Call Tracking, Small Business Marketer, Corporate Marketer, Agency Marketer) that support website integration, connecting Enquire MAP to Google Services will unlock several dashboard widgets.
Google Analytics Integration
Enquire MAP integrates easily and seamlessly with Google Analytics to deliver rich insight into online campaigns and conversions. Google Analytics is a service offered by Google that generates detailed statistics about a website's traffic and traffic sources and measures conversions and sales.
Connect the Google Analytics account with Enquire MAP:
Log into Google Analytics here:

http://www.google.ca/analytics/. If without a Google Analytics account, they are easy to create.
Once logged in, click Admin at the top of any Analytics page.
Use the menu at the top of the columns to select the needed account.
3 columns of attributes should appear: Account, Property, View
Under Property, click on Tracking Info-Tracking Code
Copy the Tracking ID (UA-XXXXXX...)
In Enquire MAP, navigate to Administration > Account Settings > Integrations
In the Edit Box,

GA Account ID, paste the Google Analytics Tracking ID
Click Save Account
Authorize Google Analytics:
In the Enquire MAP Account Settings, scroll to Third Party Applications
Click the

Add Application Button
Select "Google" from the drop down list
Enter the Google email address in the email address field. The email address must have full access to the Google Analytics account to be authenticated.
Click the icon under the "Authenticated" heading
Select the Google account that corresponds to the Google Email address typed in step 4
Google Ads (AdWords) Integration
Google Ads reporting is a service offered by Google that generates detailed statistics about the ongoing Google paid advertising.
Authenticate the Company Google account as per the previous section of this article
Log into the Google Ads account
The Customer ID will be at the top corner of any Ads page,near the email address. Do

not use the MCC ID as this must be the

Customer Ads Account ID.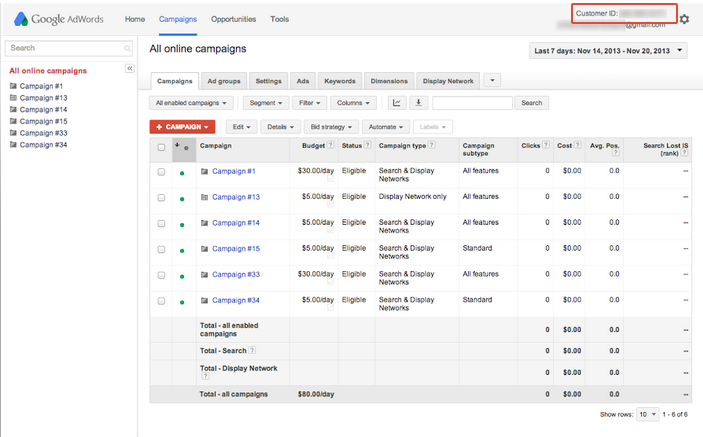 ValueTrack Parameters
As Google has now restricted what data is given publicly on ad clicks, please use ValueTrack parameters to communicate the ad data to Enquire MAP.
Here is an article on setting up value track parameters in Google Ads - How to Use ValueTrack Parameters in Enquire MAP
As there is no restriction on the labels used when setting up the parameters, notify Enquire MAP which labels to be used for selected parameters in Ads. Navigate to Administration > Account Settings to specify the ValueTrack parameter labels have used in the Ads Account. Please Note: We recommend setting up Google Analytics Goals and linking them to Google Adwords.
After the account is authenticated with the Google Ads account:
Sign in to Ads Account
Click the Tools tab, and select Conversions from the drop-down menu.

Click the +Conversion button

Select Website option

Click Name then enter the name of the conversion to track on the Company website. Click Done.
Click Value then select whether each conversion has the same value or varying values (ie. Purchases of products with different prices), or select "Don't assign a value" if preference is not to count one. Click Done.
Click Count then select whether to count all or unique conversions. All is best for sales. Unique is best for leads. Click Done.
Click Conversion Windows then select a conversion window – how long after an ad click and ad impression to track conversions) and a view-through conversion window – how long after an image or rich media Display Network ad impression used to track conversions). This can be as short as one week to as long as 90 days (30 days for view-through conversions). Click Done.
Click Category then select the category that best applies to the conversion. Sign ups, Purchase/Sale or Other. Click Done.
Click Optimization. Opting into this setting optimizes bids for this conversion action when using automated bid strategies such as Target return on ad spend, Enhanced cost per click, or Conversion optimizer. Uncheck the box if not optimizing bids for this conversion action. Click Done.
Click Save then Continue

Select one of 2 options under "Install your tag."

Save instructions and tag: Install the conversion tracking code on the website.
Email instructions and tag: Select this option if someone else will be adding the code to the website.

For conversion tracking, please use a separate page for the confirmation page in the Landing Page form completion settings. If using an Enquire MAP Landing Page for the confirmation page,
add the conversion code to the confirmation page. Open the confirmation landing page in Enquire MAP. A "Thank you for your submission page or Thank you for your order page" will appear.
On the right hand side under Properties, paste the conversion code into the Script Tag box. Click Save.

Please reach out to the dedicated Enquire Account Manager or Enquire MAP Support team for further assistance.