The Difference between an Account, a Contact, an Organization, an Employee, and a User
Organization: The Enquire MAP record that groups Contacts with the relationship Employer:: Employee. A Contact is employed by the Organization.
Contact: A Contact is an Enquire MAP record that contains the metadata, the activity history, etc for a single person with one or more email addresses and/or phone numbers.
Account: An Account is a special case of an Organization. The Account is the entity that contains
Employees (contacts that work for the Account)
Users (Employees of the Account that have login accounts)
Contact database (collection of Contacts that do not work for the Account and Organizations)
Assets
Automation
Custom fields and settings
Etc
An Account is tied to a single website domain.
User: An employee of the Account that has a login account.
How to Add Users to Enquire MAP account
Please connect with Enquire MAP Support for further assistance.

Navigate to Administration > Account Settings > Employees tab.

Click Add Employee to create an employee contact.

With appropriate permissions level to manage user accounts, the new employee will have the following icon:

Click the icon with the '+'. This will create a user account.

Please Note: If the '+'is not visible, reach out to the Community Admin team for MAP to help use their permission levels as they can support multiple logins. Adding an employee to the account does not create a user login, so the User must complete the next steps.

Select the appropriate access level for the user.


For the client logins, consider selecting Dashboard Viewer as the permissions account.

Do not set their password. The new user will be able to set their own password.

Set the appropriate time zone for the new user.

When clicking 'Save, the new user account will be created and the user will be sent an account confirmation email. The user will be given the opportunity to set their own password upon account confirmation.

The client user login domain is listed in the account administration page.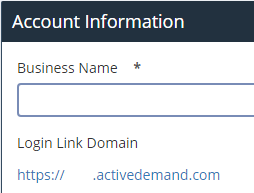 How do I add a client account?
Click the toolbar click new client account if on an agency account.
Please connect with Enquire MAP Support or the Community MAP Admin if without access to an agency account.
Please reach out to the dedicated Enquire Account Manager or Enquire MAP Support team for further assistance.